2nd International Conference on
Brain Disorders and Therapeutics
Chicago, USA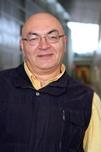 Yuri P Danilov
University of Wisconsin, USA
Biography
Yuri P. Danilov, PhD, Senior Scientist and Neuroscience Director in Tactile Communication and Neuromudulation Laboratory (TCNL), Biomedical Engineering Department,
UW-Madison, is a system neuroscientist with over 35 years' experience in research on brain functions and the special senses, including vision, taste, hearing and balance.
He is the lead discoverer of the balance retention effect, lead development of the specifi c training regimens, and continues to identify potential clinical and non-clinical
application of neuromodulation and sensory substitution technology. He received the M.S. degree in biophysics, in 1978, from St. Petersburg University in Russia and the
Ph.D. degree in neuroscience, in 1984, from the Pavlov Institute of Physiology, USSR Academy of Science. He was Senior Scientist (11/00 – 12/04) and Director of Clinical
Research at Wicab, Inc., where as co-inventor oversaw both conceptual development for the BrainPort vision and balance systems. He is a co-inventor the CN-NINM
technology and his interest areas are neuroplasticity, neurorehabilitation, enhancement of human performance.
Abstract
Abstract :
Notice: Undefined index: speaker_title in /var/www/universal_code/speaker-details.php on line 310
New approach to Neurorehabilitation: Cranial nerve noninvasive neuromodulation (CN-NINM technology)